"Make a difference with a healthy beautiful smile"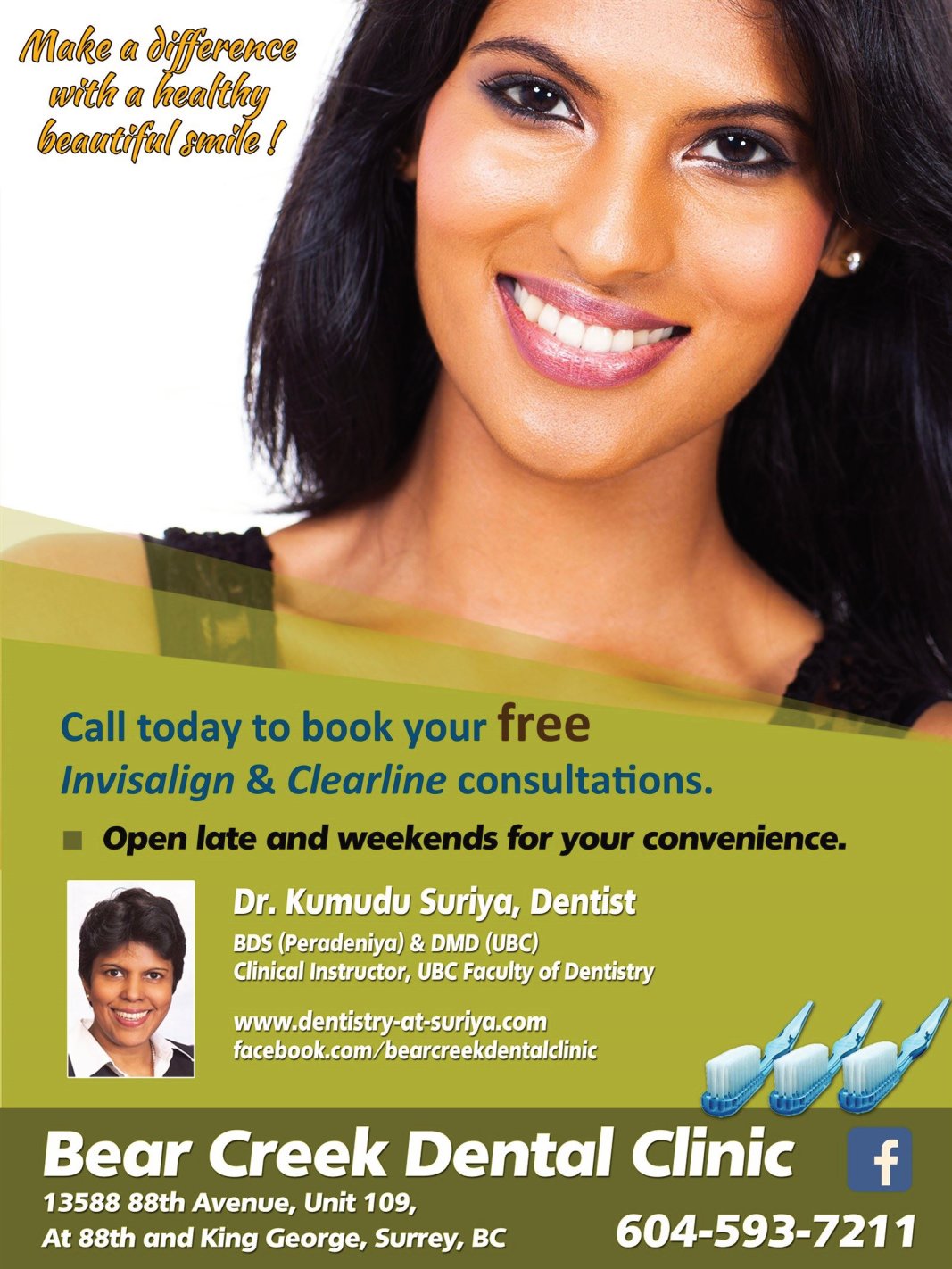 For free 
Invisalign & Clearline consultations 
with Dr. Kumudu Suriya, 
call 604-593-7211!
Enhance your smile with Invisalign & Clearline!

Book your free consultation.

Call Dr. Kumudu Suriya at 604-593-7211
Bear Creek Dental Clinic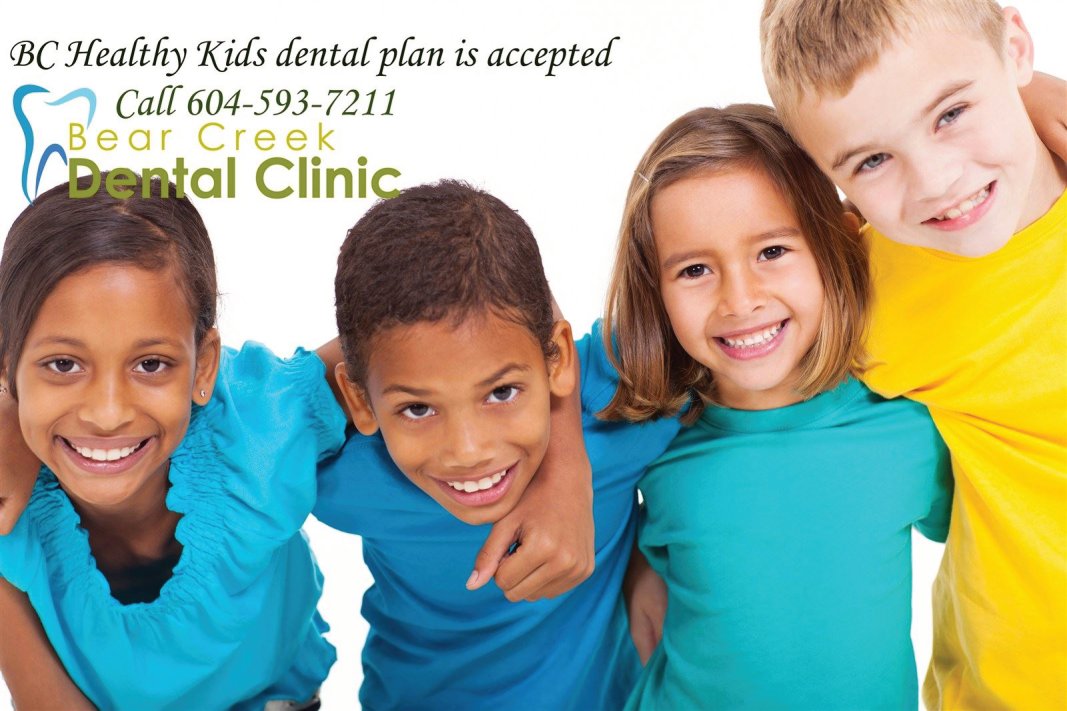 BC Healthy Kids and other government assisted dental plans
By
Dr. Kumudu Suriya, DMD
Government assisted dental plans may not be the solution to all your dental needs, but they can be helpful.
The best known Canadian federal government plans are related to refugees (1-888-242-2100), veterans (1-866-522-2122) and First Nations (1-855-618-6291).
The BC Employment and Assistance Program provides basic dental services to income assistance clients who are least likely to become financially independent.  These programs are known as Persons with Disabilities and Persons with Persistent Multiple Barriers.  Their dependent children, under age 19 are eligible for basic dental coverage.  These are commonly known as Ministry Dental Insurance plans (1-866-866-0800).
BC Healthy Kids plan (1-866-866-0800) also provides some dental coverage for children who have been approved for BC Medical Services Plan (MSP) premium assistance.  You may qualify for BC Healthy Kids plan prescription eyeglasses too.
In addition to these assistance plans, some colleges and universities have dental coverage for their students.
Before calling a dentist, call all appropriate numbers to obtain relevant information as applicable to your situation.  Having information ready will help you and the dentist.
----------
• Dr. Kumudu Suriya, DMD (UBC) at Bear Creek Dental Clinic (604-593-7211) welcomes all -- insured and non-insured patients.
Version: Nov16_2015_SS
Also see the other blogs: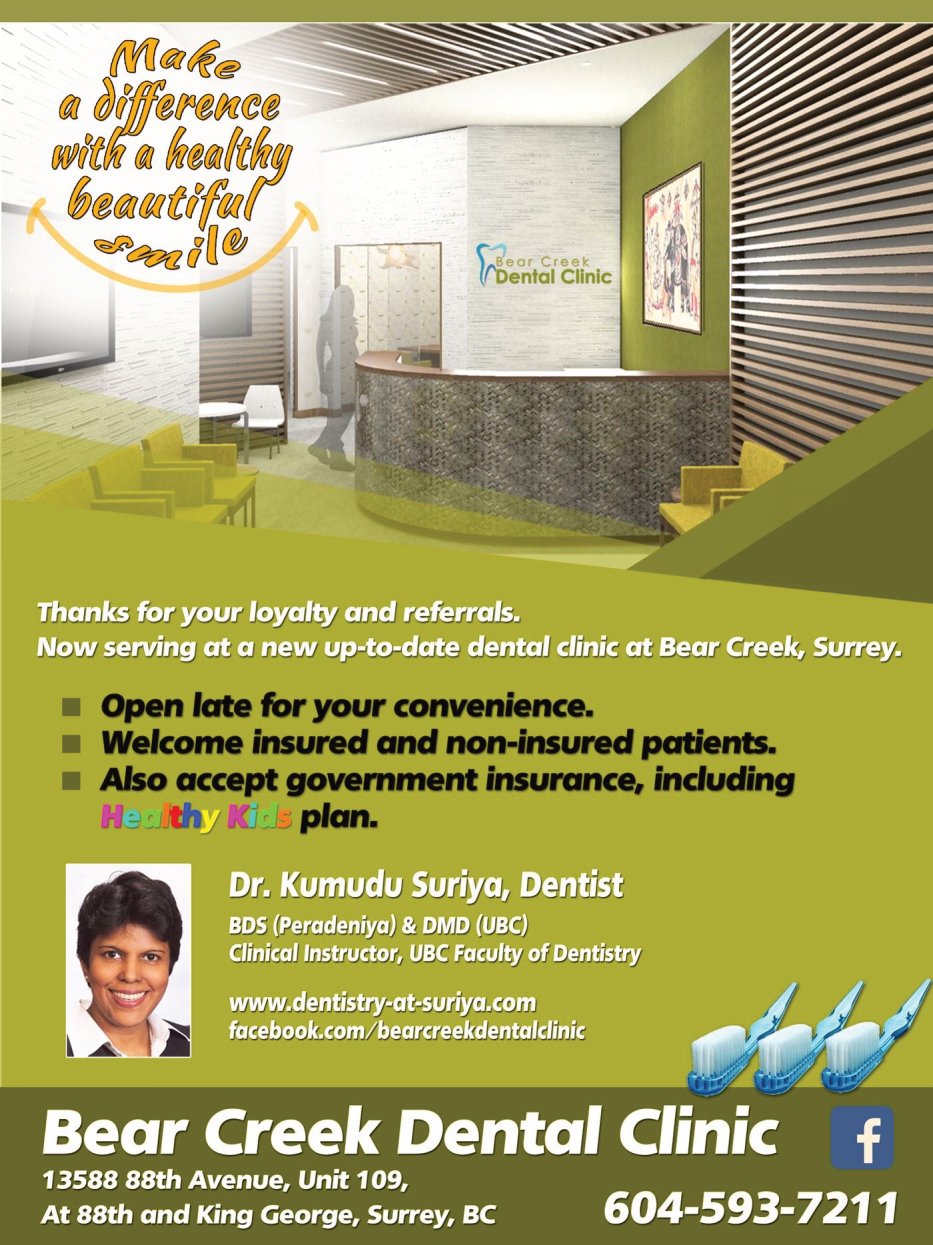 "Make a difference with a healthy beautiful smile" has been my personal philosophy.  This has enabled me to see possibilities beyond obvious and to provide with very best care for my patients.
   Dr. Kumudu Suriya, Dentist
   BDS (Peradeniya), DMD (UBC)
   Clinical Instructor, UBC Dentistry
Bear Creek Dental Clinic
13588 88th Avenue, Unit 109
Surrey, BC V3W 3K8
604-593-7211

I am no longer at the 68th & 152 clinic.
Now I am at Bear Creek Dental Clinic, 13588 88th Av., Unit 109, Surrey, BC.
Please call 604-593-7211 for dental and oral hygiene appointments.
My new clinic info is at
https://www.facebook.com/bearcreekdentalclinic
Please visit the link and share it.
Thanks.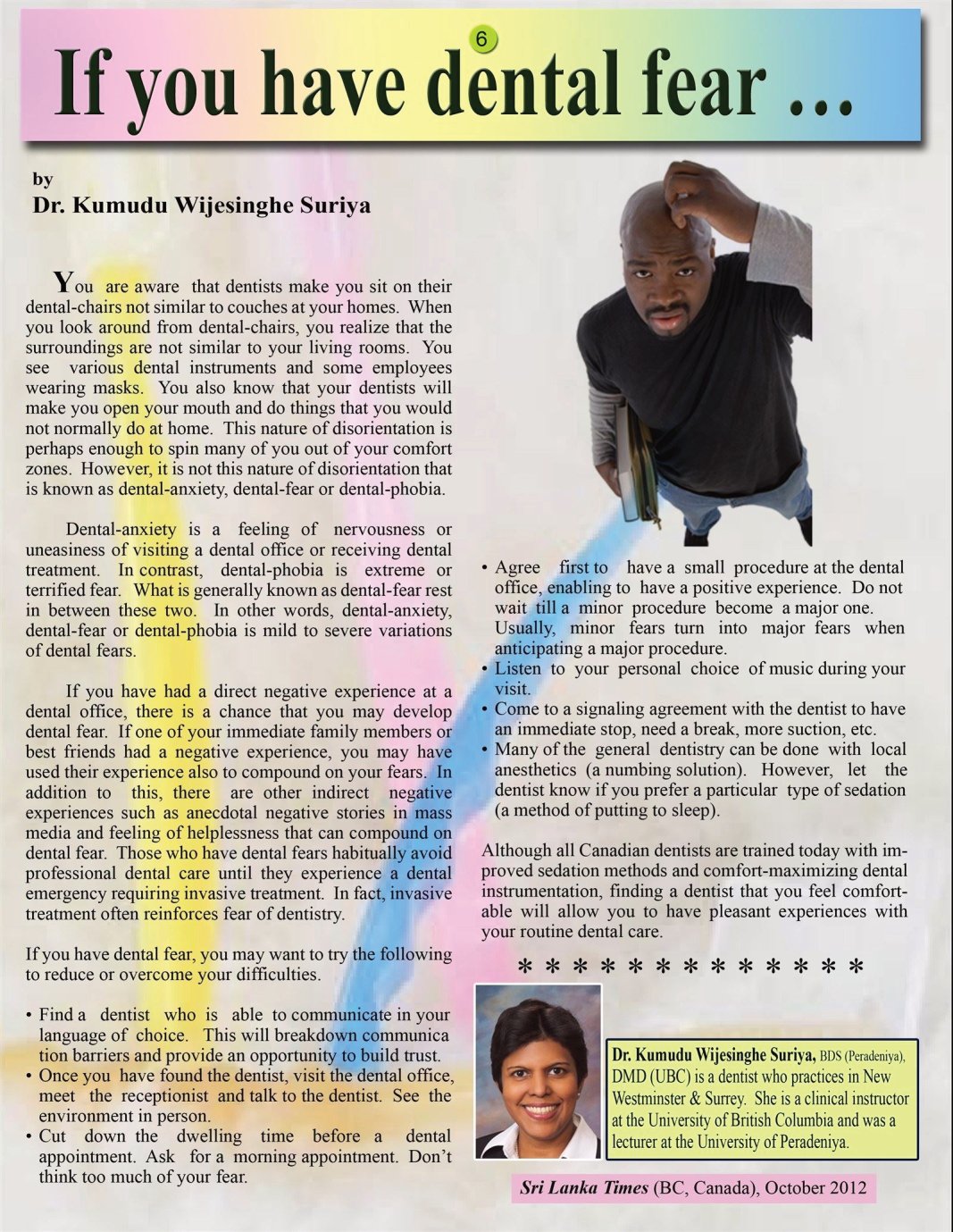 If you have dental fear …
by
Dr. Kumudu Wijesinghe Suriya
You are aware that dentists make you sit on their dental-chairs not similar to couches at your homes.  When you look around from dental-chairs, you realize that the surroundings are not similar to your living rooms.  You see various dental instruments and some employees wearing masks.  You also know that your dentists will make you open your mouth and do things that you would not normally do at home.  This nature of disorientation is perhaps enough to spin many of you out of your comfort zones.  However, it is not this nature of disorientation that is known as dental-anxiety, dental-fear or dental-phobia.
Dental-anxiety is a feeling of nervousness or uneasiness of visiting a dental office or receiving dental treatment.  In contrast, dental-phobia is extreme or terrified fear.   What is generally known as dental-fear rest in between these two.  In other words, dental-anxiety, dental-fear or dental-phobia is mild to severe variations of dental fears.
If you have had a direct negative experience at a dental office, there is a chance that you may develop dental fear.  If one of your immediate family members or best friends had a negative experience, you may have used their experience also to compound on your fears.  In addition to this, there are other indirect negative experiences such as anecdotal negative stories in mass media and feeling of helplessness that can compound on dental fear.  Those who have dental fears habitually avoid professional dental care until they experience a dental emergency requiring invasive treatment.  In fact, invasive treatment often reinforces fear of dentistry.
If you have dental fear, you may want to try the following to reduce or overcome your difficulties. 
 •  Find a dentist who is able to communicate in your language of choice.  This will breakdown communication barriers and provide an opportunity to build trust. 
 •  Once you have found the dentist, visit the dental office, meet the receptionist and talk to the dentist.  See the environment in person. 
 •  Cut down the dwelling time before a dental appointment.  Ask for a morning appointment.  Don't think too much of your fear.
•  Agree first to have a small procedure at the dental office, enabling to have a positive experience.  Do not wait till a minor procedure become a major one.  Usually, minor fears turn into major fears when anticipating a major procedure. 
 •  Listen to your personal choice of music during your visit. 
 •  Come to a signaling agreement with the dentist to have an immediate stop, need a break, more suction, etc. 
 •  Many of the general dentistry can be done with local anesthetics (a numbing solution).  However, let the dentist know if you prefer a particular type of sedation (a method of putting to sleep).
Although all Canadian dentists are trained today with improved sedation methods and comfort-maximizing dental instrumentation, finding a dentist that you feel comfortable will allow you to have pleasant experiences with your routine dental care.
Dr. Kumudu Wijesinghe Suriya, BDS (Peradeniya), DMD (UBC), is a dentist who practices in New Westminster & Surrey.  She is a Clinical Instructor at the UBC and was a Lecturer at the University of Peradeniya.
Sri Lanka Times (BC, Canada), October 2012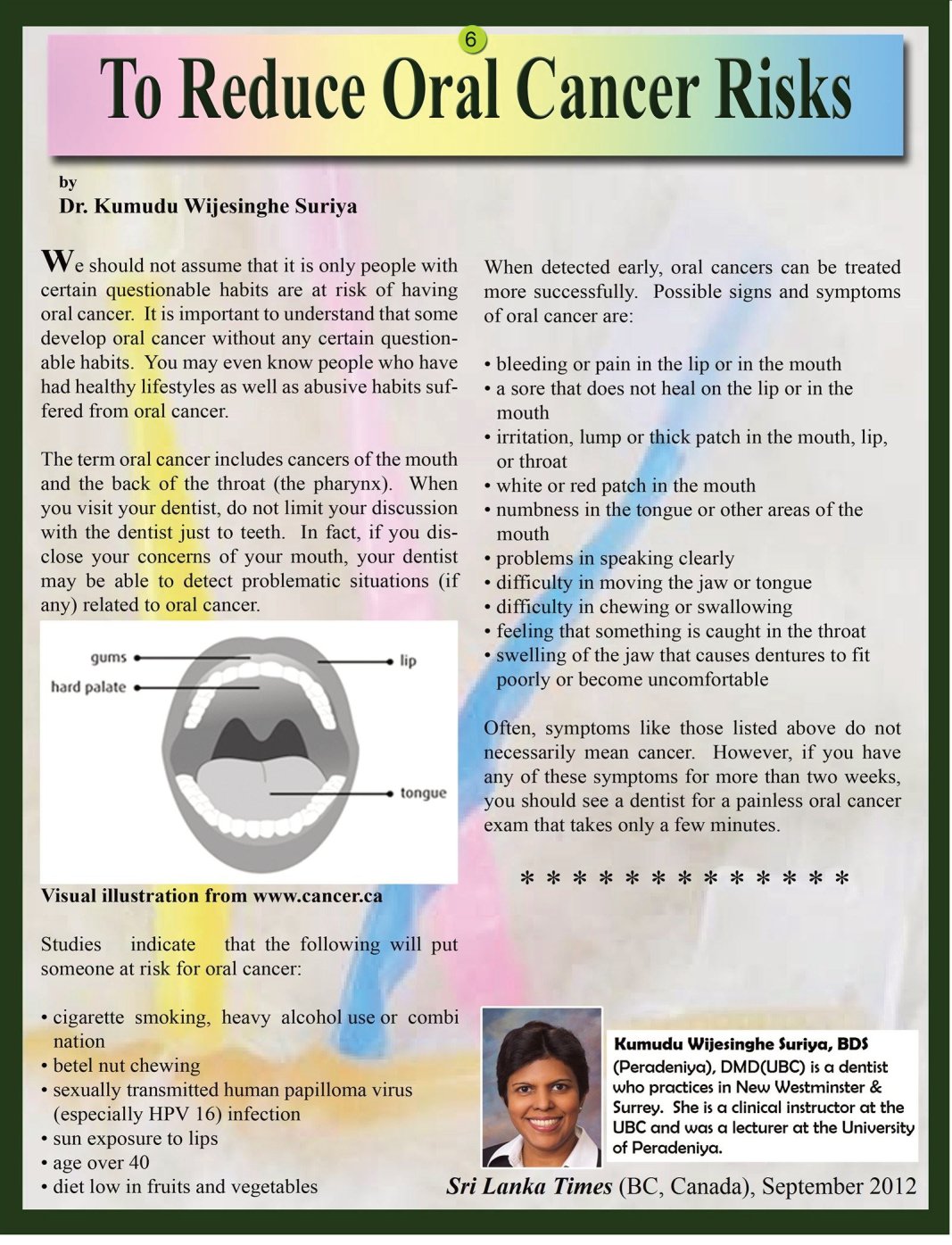 To Reduce Oral Cancer Risks
by 
Dr. Kumudu Wijesinghe Suriya
    
We should not assume that it is only people with certain questionable habits are at risk of having oral cancer.  It is important to understand that some develop oral cancer without any certain questionable habits.  You may even know people who have had healthy lifestyles as well as abusive habits suffered from oral cancer.
The term oral cancer includes cancers of the mouth and the back of the throat (the pharynx).  When you visit your dentist, do not limit your discussion with the dentist just to teeth.  In fact, if you disclose your concerns of your mouth, your dentist may be able to detect problematic situations (if any) related to oral cancer.
Studies indicate that the following will put someone at risk for oral cancer:
• cigarette smoking, heavy alcohol use or combination 
• betel nut chewing 
• sexually transmitted human papilloma virus (especially HPV 16) infection 
• sun exposure to lips 
• age over 40
• diet low in fruits and vegetables
When detected early, oral cancers can be treated more successfully.  Possible signs and symptoms of oral cancer are: 
• bleeding or pain in the lip or in the mouth 
• a sore that does not heal on the lip or in the mouth 
• irritation, lump or thick patch in the mouth, lip, or throat 
• white or red patch in the mouth 
• numbness in the tongue or other areas of the mouth 
• problems in speaking clearly 
• difficulty in moving the jaw or tongue 
• difficulty in chewing or swallowing 
• feeling that something is caught in the throat 
• swelling of the jaw that causes dentures to fit poorly or become uncomfortable 
Often, symptoms like those listed above do not necessarily mean cancer.  However, if you have any of these symptoms for more than two weeks, you should see a dentist for a painless oral cancer exam that takes only a few minutes. 
Dr. Kumudu Wijesinghe Suriya, BDS (Peradeniya), DMD (UBC), is a dentist who practices in New Westminster & Surrey.  She is a Clinical Instructor at the UBC and was a Lecturer at the University of Peradeniya. 
Sri Lanka Times (BC, Canada), September 2012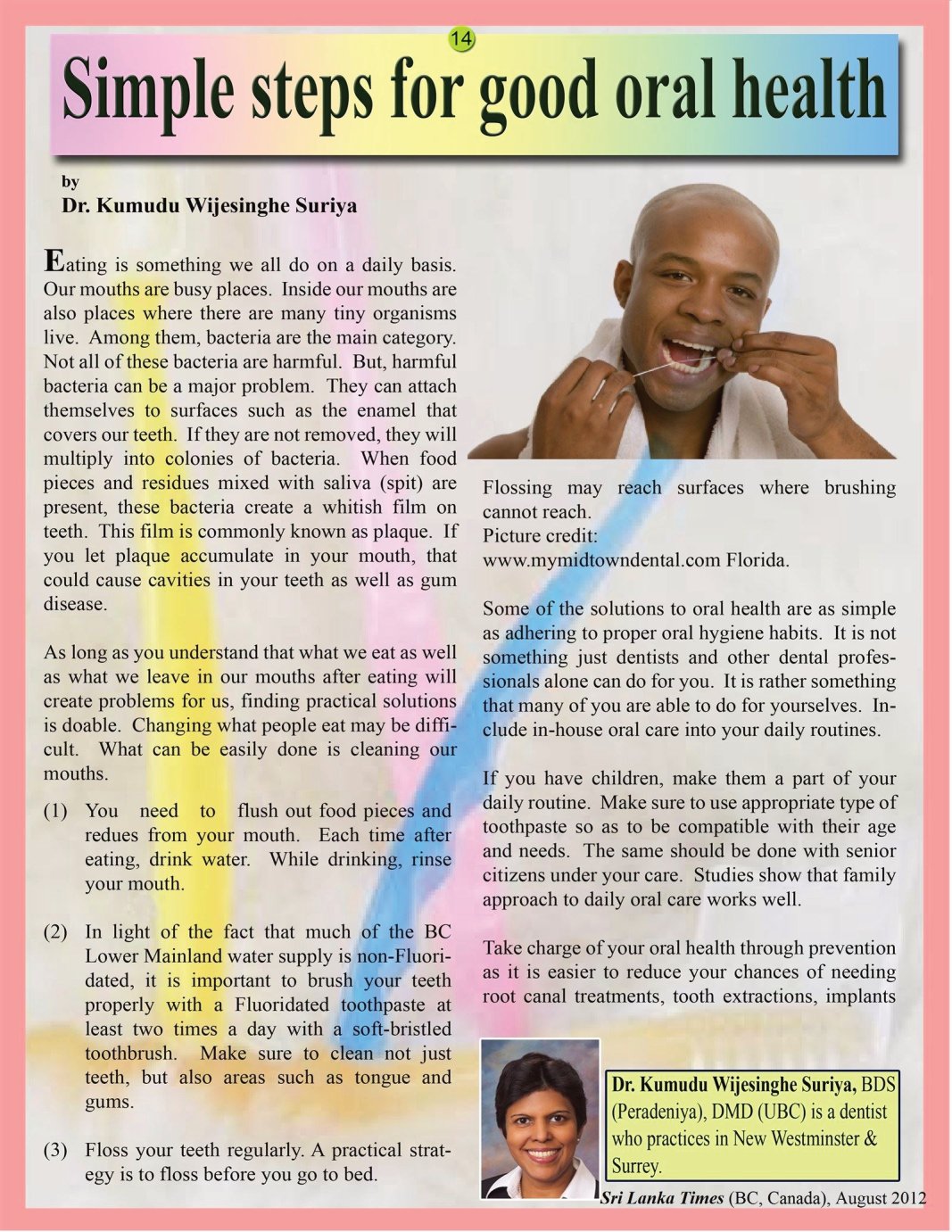 Simple steps for good oral health
by 
Dr. Kumudu Wijesinghe Suriya
Eating is something we all do on a daily basis.  Our mouths are busy places.  Inside our mouths are also places where there are many tiny organisms live.  Among them, bacteria are the main category.  Not all of these bacteria are harmful.  But, harmful bacteria can be a major problem.  They can attach themselves to surfaces such as the enamel that covers our teeth.  If they are not removed, they will multiply into colonies of bacteria.  When food pieces and residues mixed with saliva (spit) are present, these bacteria create a whitish film on teeth.  This film is commonly known as plaque.  If you let plaque accumulate in your mouth, that could cause cavities in your teeth as well as gum disease.
As long as you understand that what we eat as well as what we leave in our mouths after eating will create problems for us, finding practical solutions is doable.  Changing what people eat may be difficult.  What can be easily done is cleaning our mouths.
(1) You need to flush out food pieces and residues from your mouth.  Each time after eating, drink water.  While drinking, rinse your mouth.
(2) In light of the fact that much of the BC Lower Mainland water supply is non-Fluoridated, it is important to brush your teeth properly with a Fluoridated toothpaste at least two times a day with a soft-bristled toothbrush.  Make sure to clean not just teeth, but also areas such as tongue and gums.
(3) Floss your teeth regularly. A practical strategy is to floss before you go to bed.  Flossing may reach surfaces where brushing cannot reach.
Some of the solutions to oral health are as simple as adhering to proper oral hygiene habits.  It is not something just dentists and other dental professionals alone can do for you.  It is rather something that many of you are able to do for yourselves.  Include in-house oral care into your daily routines.
If you have children, make them a part of your daily routine.  Make sure to use appropriate type of toothpaste so as to be compatible with their age and needs.  The same should be done with senior citizens under your care.  Studies show that family approach to daily oral care works well.
Take charge of your oral health through prevention as it is easier to reduce your chances of needing root canal treatments, tooth extractions, implants and more.
Dr. Kumudu Wijesinghe Suriya, BDS (Peradeniya), DMD (UBC), is a dentist who practices in New Westminster & Surrey.
Sri Lanka Times (BC, Canada), August 2012
/